Our Emergency Plumbers on Brisbane northside are waiting for your call! We can handle all your Plumbing needs.
We specialise in Blocked Drains, Call Dean today for same day, fast affordable service. We will look after you!
Hot Water system Issues? Call Today and we will give you a quick quote. We are waiting for your call!
Call Today for any Gas Issues on Domestic and Comercial systems. We are Qualified and experience.
Your Dependable plumbing service on Brisbane's Northside
North Brisbane Plumbing Services
Buz Plumbing are plumbers north Brisbane based and are proudly family owned and operated with over 10 years experience in the industry providing a professional, prompt, reliable and honest service that you can depend on for your Brisbane northside plumbing and maintenance needs.
Dean is fully qualified in all areas of Plumbing including Blocked drains and Camera Inspections, Emergency plumbing, Hot Water Systems, Gas fitting and general maintenance.
Our Team of local plumbers in North Brisbane will go above and beyond with all your plumbing needs.
Call us today
!
We can service all your Plumbing needs in North Brisbane
Plumber for Blocked Drains
Call Buz Plumbing for all your blocked drain problems. Our licensed plumbers are available to perform routine drain maintenance and sewer cleaning. We also have a team on standby 24/7, 7 days a week for emergency drain blockages. Buz Plumbing services both residential and commercial customers in North Brisbane.
Call us if you have drain problems like:
Clogged toilet
Clogged kitchen sink
Clogged outdoor drains
Sewer backup
Blocked bathroom drains
Trust us to quickly investigate and to clear the cause of your drain issues. Buz Plumbing  is equipped with the modern technology in drain cleaning.  We use high pressure water jetters on your pipes and drains. Our jetters run up to a pressure of 5000 psi. High pressure water effectively but gently clears out any blockage in your pipes.
Our plumbers can detect the source of the blockage using CCTV Drain Cameras. Buz Plumbers can easily identify the source of the Blockage, whether it is tree roots or deteriorating pipes.
24 Hours Emergency Plumbers in Brisbane Northside
Plumbing disasters can strike at the most unexpected time. It can happen at the break of dawn, late at night, or right before a big event. No matter what time of day, our on call plumbers are ready for you. Call Buz Plumbing for all plumbing emergencies in northern suburbs.
We are here for all your urgent plumbing needs:
✔   Overflowing toilet  ✔   Leaky faucets and pipes  ✔   No hot water  ✔   Clogged kitchen sink  ✔   Broken water lines  ✔   Clogged shower or bathtub  ✔   Sewage backup  ✔   Roof and gutter leaks
Trust our skilled, licensed 24/7 emergency plumbers to fix your problem the first time. Our quick response team will aim to arrive in less than two hours.  We always have the right tools, parts and supplies to fix the problem in a single visit.
Our plumbers are always courteous and honest. We guarantee honest estimates so you know exactly how much you will be paying. We don't like surprising our customers with unexpected costs.
Our repairmen will also recommend tips so you can prevent a future emergency. Do not panic while waiting for our emergency service to arrive. If there is a leak, shut the main water source. We will assist you over the phone if you do not know how to do this.  We are quick and reliable plumbers so trust that the problem will be fixed as soon as possible.
North Brisbane Gas Fitting and Installation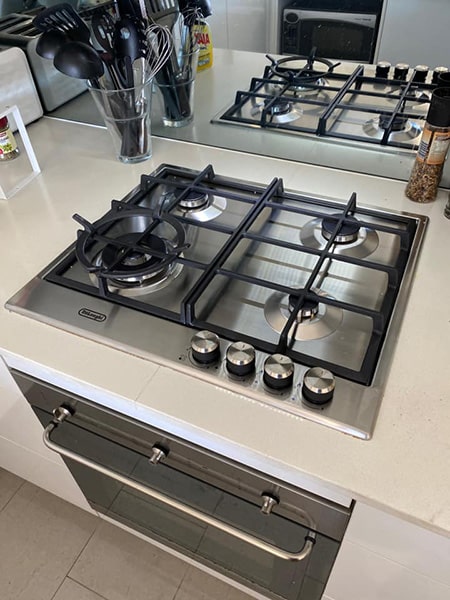 Do you need to install a new gas appliance?  Do you suspect a gas leak in your home? Buz Plumbing has a team of professional gas fitters.  By law in Australia, gas appliances and related piping must only be installed by licensed gas fitters. Gas is among the best fuel sources because of its price. However, working with gas and appliances is best left to the professionals. This job is risky if performed by unqualified tradesmen.
Buz Plumbing specialises in gas fitting services for customers in Northern Brisbane suburbs. We are experts in gas installations from hot water systems to BBQ's. Our gas plumbers can do routine maintenance of your Gas Systems and are certified to repair your Gas Systems if necessary.
Our gas plumbers are on call 24/7 to respond to your gas emergencies. Trust us to promptly detect any gas leaks in your home.
All our gas fitters are well-trained to work with any fuel source. They can safely install any gas connection for you, whether it's natural gas or LPG.
Aside from gas line installation, our licensed gas fitters are qualified to assess the safety of your gas system. Whether you live in detached housing, in an apartment, or in a RV, Buz Plumbing can investigate the appliance systems for any leaks or defects.
Dean is very reliable and responded very quickly to our call out. We had our issue sorted very prompt and professionally would definitely use again.!!
Dean is very reliable and has solved some complex plumbing issues for us. He responds quickly, is easy to work with and we'll definitely use him again.
Dean is a legend. Has helped me with multiple plumbing issues that have been ongoing and solved them no fuss.
Highly recommend from start to finish. When you ring you are made to feel at ease even in an emergency. Very reliable, very punctual, very professional….Absolutely the best.
Dean was very professional and efficient . He changed our hot water system and gave us great advice in changing from electric to gas. I would highly recommend for all your plumbing needs!
I can't recommend these guys enough. They did an excellent job at my house and they were efficient and affordable. Awesome service